Mukesh Chand Mathur (July 22, 1923–August 27, 1976) born in Delhi, popularly known as Mukesh and nicknamed The Man With the Golden Voice, was one of the finest male playback singers of Bollywood, along with Mohammed Rafi and Kishore Kumar. Mukesh Chand Mathur alias Zoravar Chand popular as the 'man with the golden voice' was one of the legendry singers in the Hindi Film Industry. His, was one mellifluous voice which had the power to cast a spell on listeners.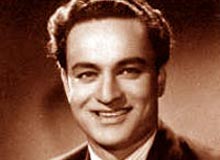 Born on July 22, 1923, in Delhi, Mukesh was interested in acting and singing right from childhood and was a great fan of Kundan Lal Saigal, a famous singer/actor of those times. But Mukesh's fate was to become popular as a singer. Mukesh, was first noticed by Motilal, a popular actor of his times and a distant relative, when he sang at his sister's wedding. Motilal arranged for his voice training in 1940 in Mumbai under Pandit Jaganath Prasad.
Mukesh's debut as a singer was in the film 'Nirdosh' in 1941 in which he also acted as a hero, but the movie did not do well at the box-office. This was followed by acting in films like 'Dukh-Sukh', 'Aadab Arz' and some other films that did not get completed. Years later in 1953, he again did a stint in acting in the film 'Aah'.

After Nirdosh, though he sang for films like 'Us paar', 'Murti' etc, his popularity as a singer came with the song 'Dil Jalta Hai To Jalne De', picturised on Motilal from the movie 'Pehli Nazar' (1945). This song almost imitating the legendary singer actor K. L. Saigal brought him instant popularity. From then on, there was no looking back for Mukesh.

It was under Music directors like Naushad and Anil Biswas that Mukesh really blossomed. He developed a style of his own with films like 'Mela' (1948), 'Anokha Pyar' (1948 Song-'Jeevan sapna toot gaya')) and 'Andaaz' (1949). His rendering of tragic numbers as well as light and cheery ones were equally good. He gave his voice for most of the songs of Raj Kapoor and Manoj Kumar which made him famous as Raj Kapoor's ghost voice. His classic numbers include popular songs like 'Awara Hoon' ('Awara', 1951), 'Jaane Na Nazar' ('Aah', 1953), 'Mera Joota Hai Japani' ('Shri 420', 1955), 'Yeh Mera Deewanapan Hai' ('Yehudi', 1958), 'Dil Tadap Tadap' ('Madumati', 1958), 'Kisi Ki Muskurahaton Pe Ho Nissar' ('Anari', 1959), 'Aa Ab Laut Laut Chalein' ('Jis Desh Mein Ganga Behti Hai', 1960), 'Dost Dost Naa Rahaa' ('Sangam', 1964), 'Jaane Kahaan Gaye Wo Din' ('Mera Naam Joker' 1970), 'Kahin Door Jab Din' ('Anand', 1970), 'Kabhi Kabhie Mere Dil Me Khayaal Aataa Hai' ('Kabhi Kabhie',1976) etc which are still popular. Mukesh's last song of his career was for the film 'Satyam Shivam Sundaram' (1978) prerecorded but released after his death.

Among the other music directors for whom Mukesh worked with, were Shankar Jaikishen, Laxmikant Pyarelal, S.D. Burman, Kalyanji Anandji, Salil Chowdhury, Usha Khanna etc. He received the National Award for the song 'Kahin baar yun bhi dekha hai' for 'Rajnigandha' (1974) and 'Filmfare Award' for best playback singer four times.

Mukesh fell in love and married a young Gujarati girl Saral in 1946, and they had two boys, Nitin and Manish, and three girls, Rita, Nalini and Nimitra. Mukesh passed away on August 27, 1976, following a cardiac arrest in Detroit, US, where he had gone for a concert.

Mukesh, along with Mohammad Rafi and Kishore Kumar was considered one among the finest and most popular Hindi film playback singers of their times. Even though a number of singers after him including son Nitin has tried his style of singing, Mukesh's immortality remains intact even three decades after his death with his melodious and evergreen numbers still having an impact on music lovers.

Born Zoravar Chand Mathur in Delhi, he left school after the 10th standard and worked briefly for the Delhi Department of Public Works. Mukesh experimented with voice recordings during his employment in Delhi and gradually developed his singing abilities.

Mukesh's voice was noticed by Motilal (a popular actor in Hindi films, also a distant relative of Mukesh) when he sang at his sister's wedding. Motilal took him to Bombay, let him stay with him and even arranged for singing lessons for him. During this period, Mukesh managed to bag a role in a Hindi film, Nirdosh (Innocent) (1941). He got his break as a playback singer in 1945 with the film Pehli Nazar (First Look). The first song he sang for a Hindi film was Dil Jalta Hai to Jalne De (If the heart burns, let it burn) , which was incidentally picturised on Motilal.

He is best known for the songs he sang as a playback singer for Raj Kapoor, a legendary actor/director of Bollywood in the 1950s and 1960s.

In 1974, Mukesh received a National Award for the song Kain baar yoon bhi dekhaa hai from Rajnigandha (1974), and Filmfare Awards for the songs Sab Kuch Seekha in the movie Anari (1959), Ganga Ram Ki Samajh in Pehchaan (1970), Jai Bolo in Be Imaan (1972) and Kabhie Kabhie in the film of the same name (1976).

Mukesh died of a heart attack on August 27, 1976 in Detroit, Michigan, USA, where he had gone for a concert. His body was carried back to India with Lata Mangeshkar, where a grand funeral ceremony took place as many famous actors, personalities of the Indian film industry, and fans paid tribute to the late singer. When the news of his death reached Raj Kapoor, he remarked, "I have lost my voice," which is a testimony to the timeless and unforgettable association of Mukesh's voice (in playback) to the immensely popular songs of Raj Kapoor's films.

After Mukesh's death, his newer unreleased songs came out in 1977 with films like Dharam Veer, Amar Akbar Anthony, Khel Khilari Ka, Darinda, and Chandi Sona. The year 1978 also featured a good number of Mukesh songs , films like Aahuti, Paramatma, Tumhari Kasam, and Satyam Shivam Sundaram, where Mukesh sang his last film song "Chanchal Sheetal Nirmal Komal." From 1980 onward, Mukesh's voice was heard in many late films like Shaitan Mujarim, Premika, Patthar Se Takkar (1980), Sanjh Ki Bela, Maila Anchal (1981), Aarohi (1982), Chor Mandali (1983), Nirlaj (1985), Love and God (1986), Shubh Chintak (1989), and his last known release of Chand Grahan (1997).

Mukesh's son, Nitin Mukesh, was a fairly popular singer in the 1980s and sings mostly devotional religious songs these days.