The most perfect Voice in the world -According to Royal Albert Hall ,London 
Lata Mangeshkar is one of the best singers of the Hindi film industry. She is listed in the Guinness Book of World Records as the most recorded artist in the world. It is estimated that she has more than 30,000 solo, duet and chorus backed songs in 20 different languages from 1948 to 1987. Now, it must way over 40,000! Lata Mangeshkar was born on 28th September, 1929 in a place called Indore. Her father Dinanath Mangeshkar was a renowned classical singer himself. Lata was introduced to music at a very young age. The life history of Lata Mangeshkar is truly fascinating. Read this short biography of Lata Mungeshkar.

Lata Mangeshkar was very young when her father passed away, thus making the family dependant on Lata. To take care of her family's economic situation, Lata acted in as many as 8 films from 1942 to 1948. She debuted as playback singer in a Marathi film named Kiti Hasaal (1942). Unfortunately the song was edited out. Her first Hindi playback was for the film Aap ke Sewa Main (1947) but she did not get noticed. At that time, the film industry was ruled by female singers who had heavier and huskier voices like Noor Jehan, Shamshad Begum and Zohrabai Ambalewali. While auditioning for the movie Shaheed (1948), she was rejected on the account of her thin voice! But Ghulam Haider saw the potential in her and gave her a chance to sing in the film Majboor.
Lata Mangeshkar is the pride of Indian music industry. Blessed with beautiful voice, she is the most well known Indian vocalist. Highly versatile, she has sung in more than 20 languages. To honor and give recognition to her works, Lata Mangeshkar is also known as the Nightingale of India. Well, in this article, we will present you with the biography of Lata Mangeshkar.


Career
In the year 1945, she happened to meet the film producer S. Mukherji through Ghulam Haider. Haider personally wanted her to be given an opportunity to show her singing talent. However, S. Mukherji did not like her voice and said no for giving her a chance to sing for his film. At that point of time, Haider promised himself to establish her singing career in Bollywood. He even said to the producer that, one day will come when all the producers and directors will fall on her feet and beg her to sing in their films.
Lata sang her maiden cinematic song for the Marathi film Kiti Hasaal (1942). Her father did not like the idea of her daughter singing for the films. So, her song was deleted from the movie. In the year 1942, she lost her father. Due to sudden demise of her father and unsound financial condition of the house, she decided to play small roles in various Hindi and Marathi films. She had to take up the acting assignments, despite the fact that, she was not at all fond of acting. To know the complete life history of Lata Mangeshkar, read on.

The song Dil Mera Toda finally got her noticed and it was touted as her breakthrough song. In 1949, she had four major hits from the films Barsaat, Andaaz, Dulari and Mahal. The song "Aayega Aanewala" from Mahal was a huge hit and Lata secured a firm position in the industry. The husky voices of all other singers became obsolete in front of the high pitched voice of Lata Mangeshkar. The music industry had a huge makeover with the arrival of Lata Mangeshkar. By the late 50's, the younger sister of Lata Mangeshkar known as Asha Bhonsle also came into the scene and they both were touted as the unbeatable voices of the industry.
Lata got her biggest break, when she was given the chance to sing the song "Aayega Aanewaala" for the movie Mahal. The song was a super duper hit. The period of 1950s witnessed tremendous growth in her career. She rose to the top in the list of Bollywood singers. She worked with all the famous composers of that era like Shankar Jaikishan, S D Burman, Naushad, Hemant Kumar, and Salil Chowdhury. Shankar Jaikishan was absolutely stunned by her voice and used her voice for playback singing in almost all the movies that he got.

The period of 1960s made her the queen of Bollywood playback singing. She sang for almost all the prominent composers of the industry and set her foothold in Bollywood. Her songs got an overwhelming response from people all over the country. During the 1970s, Lata recorded songs for Bollywood actress Meena Kumari in the film Pakeezah, which brought her recognition and popularity. She performed tracks for S.D. Burman's films like Prem Pujari, Sharmilee, and Abhimaan.
Lata rose to fame rapidly and made her indelible mark in the industry. She has sung with famous singers like Mohammed Rafi, Kishore Kumar, Mukesh, etc. She has perfected almost every genre of music. Her success and determination made her one of the most powerful women in the industry. She refused to sing for the great composer S.D Burman due to some misunderstanding and also stopped singing with Mohammed Rafi. Her power was so immense that they had to come back to her. She actually monopolized the music industry and every music director wanted to work with her. She understood the requirement of each song and sang flawlessly.

In late 1970s and early 1980s,  Lata Mangeshkar worked with the children of the music composers, with whom she had worked in the past. In the year 1990, Lata established her own production house. Their first and last film "Lekin" was a total flop. Mangeshkar has also sung some non film songs including ghazals with Jagjit Singh. Lata Mangeshkar has also sung for Yash Chopra`s films including Lamhe, Dilwale Dulhaniya Le Jayenge, Darr, Yeh Dillagi, and Dil To Pagal Hai. She sang quite a number of Bengali songs with renowned music directors like Salil Chowdhury and Hemant Kumar.

Did you Know?!!!
Lata Mangeshkar has composed music and also produced movies under the name of 'Anand Ghan'.
She is very fond of cooking nice dishes.
She always sings barefoot.
* The Royal Albert Hall, London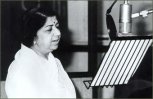 has recorded the graph of Lata's voice with the help of a computer which is by far the "Most Perfect" in the World.
* Although Lataji attended school for a day, she has been awarded an Honorary Doctorate by 6 universities including the New York University.

* Lataji has been rated as the 2nd most Admired Indian after Atal Bihari Vajpayee (The Week-Mode opinion poll). She has also been Voted as The Most Important Indian of the 20th Century (Arts) in a Net Survey By IndiaWorld.com.
* Lata Mangeshkar's horoscope is among the ten most Powerful Horoscopes of the century in the country
*After India's losses in the India-China war in 1962,

Lata had sung the song, Aye Mere Watan Ke Logon, Zara Aankh Me Bhar Lo Pani. The song, moved the then Indian Prime Minister, Jawaharlal Nehru, to tears and he confessed 'Beti toone mujhe rula diya'.
* Once when Lataji was 6 or 7, she was humming a tune to herself, suddenly she fell down and got unconscious. On regaining consciousness she started singing the same song from where she had stopped it on losing consciousness !!
* She has a permanent gallery reserved for her at the Lord's Stadium from where she enjoys watching her favourite game- Cricket.
* Photography has been one of her lesser known passions.

* At the age of two Lataji had an attack of Smallpox which made her to carry its marks to this day, she also suffers from an acute Sinus problem.
* Lata's Favourite :
Literary Works:- Khalil, Gibran, Chekov & Tolstoy
Classical Singers:- Ustad Bade Ghulam Ali Khan & Ustad Ameer Khan
Playback Singers:-K.L.Saigal & Noorjehan
Film Makers:- Guru Dutt, Bimal Roy & Satyajit Ray
Movies:- Padosan, Gone with the wind, Limelight & Titanic
Music Directors:- Madan Mohan, Salil Chowdhary & Jaidev
Lyricist:- Shailendra,Sahir Ludhianavi, Majrooh, Neeraj & Naksh Lyallpuri
Sports:- Cricket, Football & Tennis
Hobbies:- Photography & Cooking
Food:- Kolhapuri Mutton & Fried Fish with Tartar Sauce
Accessories :- Her Golden Payals
Indian City:- Mumbai
City:- New York
Colour:- White
Jewellery:- Diamonds
Festival:- Diwali

Lata Mangeshkar has been honored with innumerable awards but the one that truly deserves a special mention is that she is the only second singer in the non-classical category (after M.S Subbulakshmi) in India to have received the highest civilian award, Bharat Ratna. She has received three national awards and eight Filmfare awards after which she stopped accepting awards in order to promote new talent. She continues to sing every now and then for Hindi movies and perform live. Truly a living legend, Lata Mangeshkar has a talent that is second to none.
 Awards Recieved
Filmfare Awards (1958, 1962, 1965, 1969, 1993 and 1994)

National Awards (1972, 1975 and 1990)
Maharashtra State Award (1966 and 1967)

Other awards
1969 - Padma Bhushan
1974 - Recorded in the Guinness Book of World Records for having sung the maximum number of songs in the world
1989 - Dada Saheb Phalke Award
1993 - Filmfare Lifetime Achievement Award
1996 - Star Screen Lifetime Achievement Award
1997 - Rajiv Gandhi Award
1999 - NTR Award
1999 - Padma Vibhushan
1999 - Zee Cine Award for Lifetime Achievement
2000 - Lifetime Achievement Award by IIFA in London
2001 - Best Playback Singer of the Millennium (female) by Hero Honda and magazine "Stardust"
2001 - Bharat Ratna, India's highest civilian award
2001 - Noorjehan Award
2001 - Maharashtra Ratna